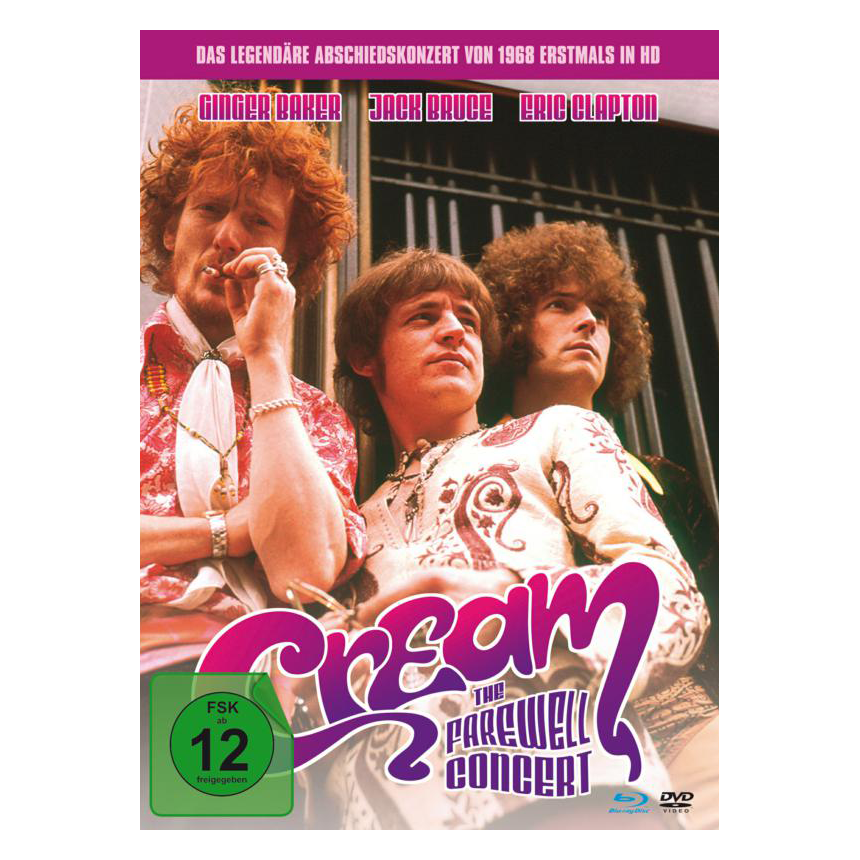 Artist:
The Farewell Concert 1968: Limited Media Book Edition
Farewell Concert: Live At The Royal Albert Hall in London 26, November 1968 - German cinema premiere: November 1973.

Cream is considered the frst supergroup in the history of rock music.

The music magazine Rolling Stone listed the band as number 67 of the 100 greatest musicians of all time - The legendary...
Farewell Concert: Live At The Royal Albert Hall in London 26, November 1968 - German cinema premiere: November 1973.

Cream is considered the frst supergroup in the history of rock music.

The music magazine Rolling Stone listed the band as number 67 of the 100 greatest musicians of all time - The legendary Farewell Concert - worldwide for the frst time in HD in a 16-page mediabook with Blu-ray and DVD - exclusively in a numbered edition limited to 1,000 copies worldwide.

It is also cinematically remarkable concert recording, as the flm through its means of expression (monochrome sequences, hectic cuts, preference for closeups and detail shots, double exposures, etc., the flm also documents the pop art and fower power movement of the late 1960s and with it the attitude to life of the young generation. Artwork gallery - 16-page booklet with interesting background information.

The Cream Farewell Concert of 1968 at the Royal Albert Hall was an emotional experience for the fans and the musicians, as it marked the end of an era - It was a fnal highlight of the band's career, who had released highly infuential albums in the three years they were active. The band performs their famous improvisational skills and unique musical chemistry.

The concert is considered an important moment in music history and was an unforgettable event for the fans, who were able to experience the supergroup Cream live.

The mediabook with a foreword by director Tony Palmer and a personal text by Nettie Baker, daughter of the legendary drummer.

Tracklist:
Sunshine Of Your Love
Jack Bruce interview 
White Room
Politican
Cross Roads 
Eric Clapton interview
Sitting On Top Of The World
Spoonfull 
Ginger Baker interview
Toad
I'm So Glad 
Formats:
Label: